'Bonsang' BTS SUGA "Returns Fast" [2021 Golden Disc Awards]
BTS embraced the Main Prize trophy.
BTS won the main prize in the digital music category of the 35th Golden Disc Awards held at KINTEX in Goyang, Gyeonggi Province on Jan. 9.
BTS said, "It's a great honor to be invited to the music industry. I used to come here to watch the music awards, but today I received the main award.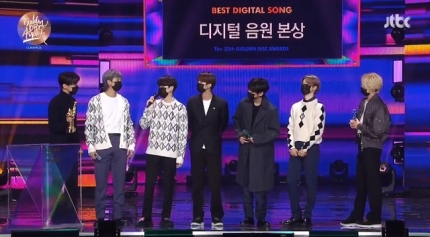 "I'm back", said SUGA. "I got the surgery & couldn't join any activities for two months, so I thought I'd get back ASAP so as not to be forgotten".
BTS hopes 'Dynamite' comforts you. We will come back with a good song.
Note: this article was translated using Papago.