SUGA replied with a smiley face to a fan's heartfelt message on Weverse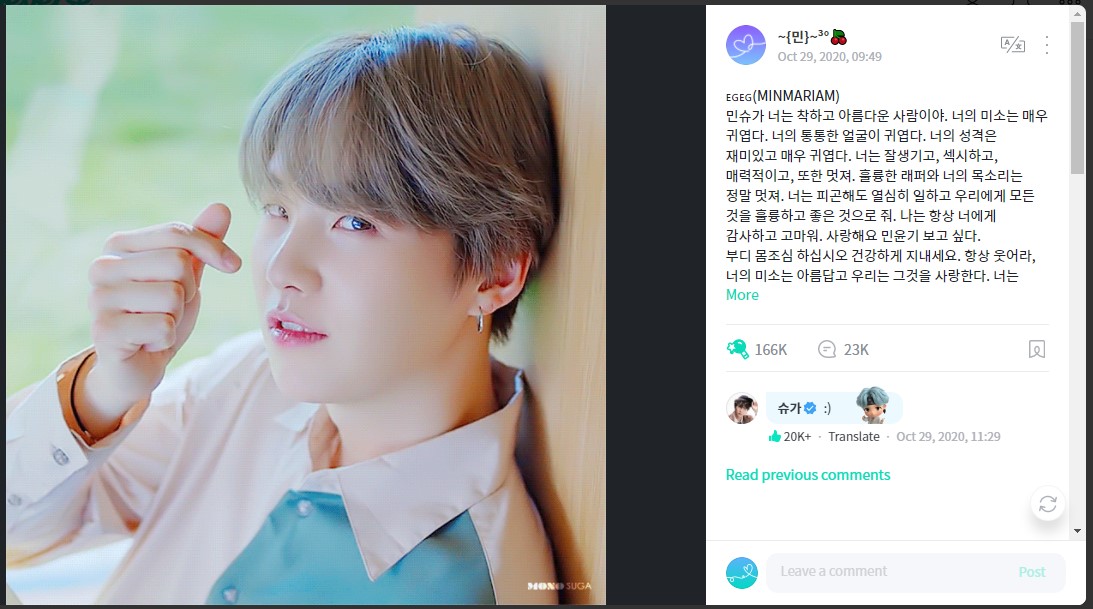 (MINMARIAM)
민슈가 너는 착하고 아름다운 사람이야. 너의 미소는 매우 귀엽다. 너의 통통한 얼굴이 귀엽다. 너의 성격은 재미있고 매우 귀엽다. 너는 잘생기고, 섹시하고, 매력적이고, 또한 멋져. 훌륭한 래퍼와 너의 목소리는 정말 멋져. 너는 피곤해도 열심히 일하고 우리에게 모든 것을 훌륭하고 좋은 것으로 줘. 나는 항상 너에게 감사하고 고마워. 사랑해요 민윤기 보고 싶다.
부디 몸조심 하십시오 건강하게 지내세요. 항상 웃어라, 너의 미소는 아름답고 우리는 그것을 사랑한다. 너는 귀엽고 멋진 사람이야. 정말 사랑해.????
English:

Min Suga you are a nice and beautiful person. Your smile is very cute. Your chubby face is cute. Your personality is fun and very cute. You are handsome, sexy, attractive and also nice. A great rapper and your voice is amazing. You work hard and give us everything great and very good even if you are Tired. I really appreciate and thank you always. I love you. I miss you, Min Yoongi.
Take good care of yourself. Stay in good health. Always smile, your smile is beautiful and we love it. You are a cute and great person. I love you so much.????

You can like the post and comment here: https://weverse.io/bts/feed/1642482243492986